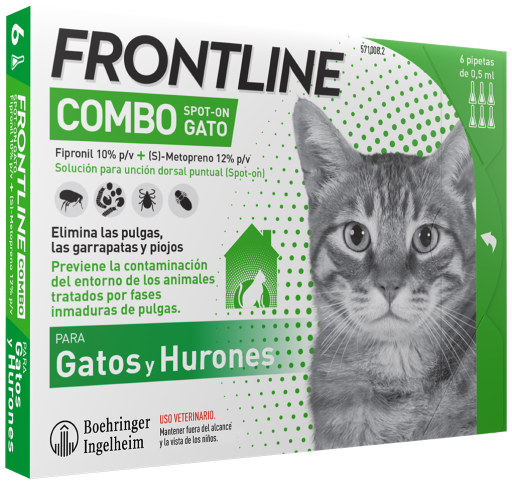 Description
Spot Combo Cat and Ferret Frontline
Frontline combo kills fleas, ticks and lice in order to remove them from your pet which limits the transmission of diseases.

It prevents the contamination of the environment by fleas → protects your pets and family from the danger of these parasites.

Fast acting - Kills fleas within 24 hours and ticks within 48 hours.

Long lasting - Kills fleas for up to 5 weeks in cats and up to 2 months in dogs.

Kills ticks for up to a month in cats and dogs.

Water resistant - Your pet can swim or be bathed as usual from 48 hours after application

Indications for use :

- To be used against infestations with fleas, alone or in association with ticks and/or biting lice.

- Elimination of fleas (Ctenocephalides spp.).

Insecticidal efficacy against new infestations with adult fleas persists for 4 weeks.

Prevention of the multiplication of fleas by inhibiting the development of eggs (ovicidal activity), larvae and pupae (larvicidal activity) originating from eggs laid by adult fleas for six weeks after application.

- Elimination of ticks (Ixodes ricinus, Dermacentor variabilis, Rhipicephalus sanguineus).

The product has a persistent acaricidal efficacy for up to 2 weeks against ticks (based on experimental data).

- Elimination of biting lice (Felicola subrostratus).The product can be used as part of a treatment strategy for the control of Flea Allergy Dermatitis (FAD).


Features
Spot Combo Cat and Ferret Frontline
Reference

3661103020059

Brand

Frontline

Units

18, 1, 3, 6

Product Range

Frontline Combo

Insects and parasites

Flea, Ticks, Louse

Pet Weight

5 - 8 Kg, 0 - 4 Kg.

Type of Components

Chemical

Small Animal Type

Ferrets

Prescrição Veterinária

Farma OTC
Customer Reviews
Spot Combo Cat and Ferret Frontline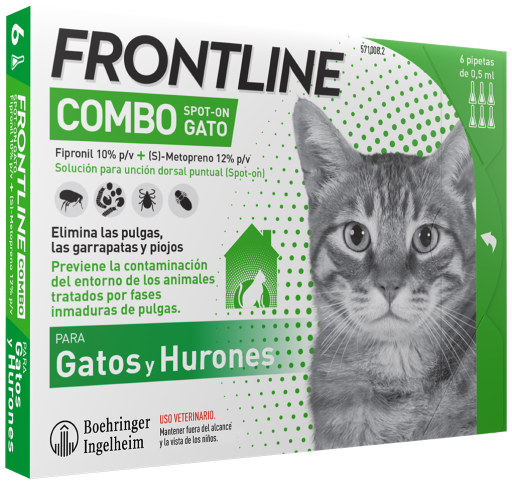 Très bien pour protéger des puces et des tiques.
Ottimo prezzo per 6 pipette. Prodotto molto valido