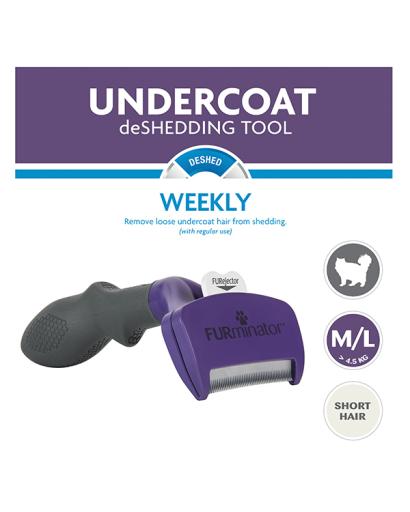 Description
Brush for Medium and Large Shorthair Cats FURminator
FURminator® Undercoat deShedding Tool for medium/large long-haired cats removes 99% of loose hair from shedding. It also helps reduce hairballs. Use 1-2 times a week in 10-20 minute sessions on dry hair.
Product Information:
- The stainless steel hair removal edge cuts through the outer coat to remove loose hair from the undercoat easily and safely, without damaging the top coat or cutting the skin.
- Skin Guard® glides over the skin and reduces edge aggressiveness.
- Curved edge conforms to your pet's natural morphology and shape for comfort.
- FURejector® button releases hair with ease, making the hair removal process easier than ever.
- The edge guard helps preserve the teeth when storing the tool.
Instructions for use:
Please read the instructions and FAQs carefully before beginning grooming. Use the FURminator® Undercoat deShedding tool only as directed. Using Undercoat deShedding is not a normal brushing or combing process, as it removes loose and dead hair without cutting or damaging the top coat*.
STEP 1:
Undercoat deShedding product can be used at any time on pets with completely dry coats, although for best results it is recommended to perform deShedding treatments immediately after washing or drying the coat. The comprehensive line of FURminator® grooming products is designed to achieve a healthy skin and coat and significantly reduce the amount of hair shedding around the house if used on a regular basis.
STEP 2:
Before using the deShedding FURminator® Undercoat FURminator® Tool, perform a thorough physical inspection of your pet. Look for any hidden wounds, bruises and skin problems in your pet's coat. If your pet has any of these problems, see your veterinarian before grooming. Before using the deShedding tool for the undercoat, remove tangles or knots with FURminator® Dematting or Grooming Rake rakes.
STEP 3:
Use the Undercoat Shedding Tool like a brush and run it through the entire coat in the direction the hair grows, angling the steel tines toward the coat. Start at your pet's head and work your way backwards, taking special care near the stomach, paws, genitals and anus. Avoid making too many strokes in one area; instead, use fewer but gentler, longer strokes away from your pet's skin. Although the Skin Guard® design prevents the edges from penetrating and helps the tool glide across the skin, deep or harsh brushing can irritate your pet's skin, so avoid applying excessive pressure. If you notice any redness or irritation discontinue use.
STEP 4 :
When your tool picks up a lot of hair, it can be removed from the tines of the tool by pressing the FURejector® button.
Features
Brush for Medium and Large Shorthair Cats FURminator
Reference

4048422141259

Brand

FURminator

Size

L, S, L

Weight

226 GR

Color

Violet

Units

1

Hair length

Pelo Corto

Product Type

Rakes
Customer Reviews
Brush for Medium and Large Shorthair Cats FURminator