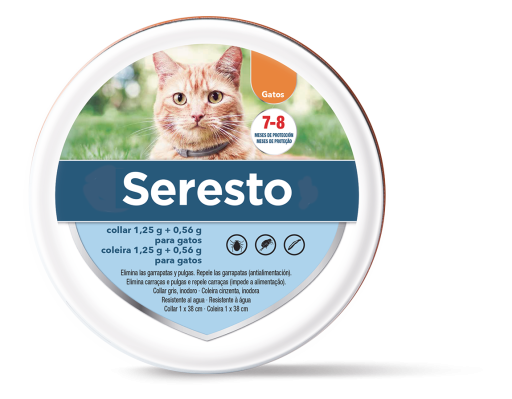 Description
Flea & Tick Collar for Cats Seresto
Seresto® collar is effective thanks to its innovative combination of materials and active ingredients known to be effective, offers up to 8 months of continuous protection against fleas and ticks on dogs and cats.
Eight months of protection and peace of mind against fleas and ticks
Benefits:
Fleas and ticks can be extremely uncomfortable for your dog. They are parasites that feed on blood and produce bites that can be painful. Furthermore, if they are infected, they can transmit serious diseases. With Seresto® you can avoid this easily.
Kills fleas. And kills and repels ticks. It lasts up to 8 months. Fits your dog, whatever their size and you can put it together with a regular collar. It has a safety release mechanism releasing your dog if he is hooked. It has a controlled break point. A second level that comes into operation if the opening mechanism of security is not enough. It is made with an innovative combination of materials and increase functionality. It allows release and controlled low dosage of the active ingredients. It is safe for your dog, family and the environment
in addition:
The package protects the active ingredients to the moment you use Seresto® and it contains a leaflet with all the information you need and the cabinet is 100% recyclable.
It is comfortable and easy to place:
Seresto® extracted from the bag inside the box and unwound the collar.Be sure to remove any rough edges that still adhere to the inside.Place it around the neck of your dog and pass the end through the buckle.I set it leaving a gap of two fingers between the collar and the neck of the dog. Try not to leave the collar too loose, because it could pop off from the head. And remember to adjust it periodically as the puppy grows.Having gained the optimal gap, cut the excess leaving only 2 cm necklace. And done!
How it works:
Seresto® uses a novel combination of materials known as "polymer matrix" and active principles known to be effective.
Ensures secure and controlled release of adequate and constant dose of these active ingredients for 8 months, providing continuous protection.
How it works:
The active substances are protected within the polymer matrix of the collar until the product is applied.
Once applied, appropriate doses of these active ingredients, which diffuse through the fat layer of the skin and cat hair released.
The active ingredients are distributed throughout its body surface to protect
The active ingredients are safe Seresto®
Seresto® has undergone rigorous testing to ensure that all ingredients used are safe not only for your dog, but also for you, your family and the environment . It has a double safety system*
Seresto® safety has been rigorously tested to dogs but also to protect them further, Seresto® includes a double safety system.
A release mechanism for security system that increases brake slack collar. A point controlled clearance that provides a second level of protection.
In the unlikely event that the dog becomes trapped, the animal's own strength is sufficient to allow for quick release. It is safe for the whole family
The active ingredients of Seresto® are protected within the collar and released at very low doses, which makes their use is safe for your family and home. This has been confirmed by several security studies. However, like any treatment, follow standard safety procedures. It is a Bayer product

The product is dispatched from Barcelona (Spain)
Language: Spanish
Features
Flea & Tick Collar for Cats Seresto
Reference

4007221035916

Size

38 cm

Brand

Seresto

Insects and parasites

Flea, Ticks

Type of Components

Chemical

Product Range
Documents
Customer Reviews
Flea & Tick Collar for Cats Seresto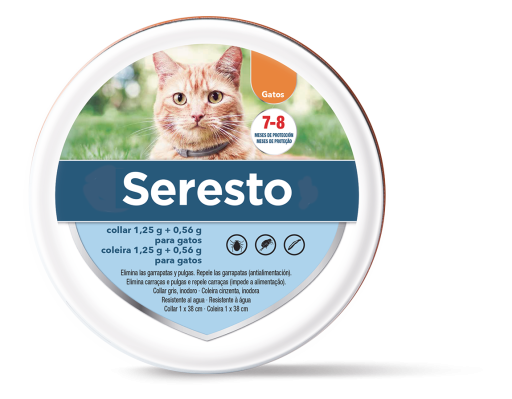 Uso em vários gatos e funciona muito bem!
Esta coleira é Infalível!
Muito bom. Muito satisfeita