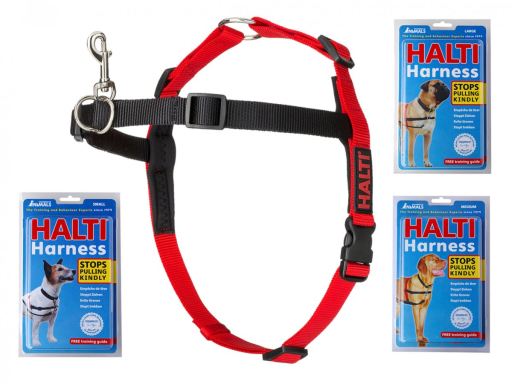 customer_also_bought_ani
Traveness

Traveness
Description
Halti Harness Anti Pulling Harness Halti
Harness that, thanks to its shape and placement, prevents the dog from pulling and can help correct bad behaviors.

Its two hooks allow the use of a double leash to exercise greater control over pulling.

The back ring that is placed over the shoulders allows forward movement while the front connection slows the dog down.

Made of durable material and padded on the inside for better comfort.

Format

- Size S: from 30 cm to 60 cm chest. Jack Russel, Terrier...
- Size M: from 60 cm to 80 cm chest: Basset Hound, Beagle, Border Collie, Boxer, Bulldog, Chow Chow, Golden Retriever, Labrador, German Shepherd...
- Size L: over 80 cm chest: Great Dane, Rottweiler, St. Bernard...
Features
Halti Harness Anti Pulling Harness Halti
Reference

886284133203

Color

Black

Brand

Halti

Size

60-80 cm, 30-60 cm, +80 cm

Colors

Black,

Materials

Poliéster

Product Type

Muzzle

Type

Training
Customer Reviews
Halti Harness Anti Pulling Harness Halti