customer_also_bought_ani
Traveness

Traveness
Description
Coatex Shampoo for Dog Skin Problems VetPlus
Coatex Shampoo is a gentle yet effective shampoo that can be used on a variety of problems according to veterinary guidelines. It has antibacterial and antifungal properties that help control skin problems and is ideal for removing scales and crusts. Comprehensive formula that provides the specific active ingredients necessary to ensure fast, safe and effective results in dermatological problems.
APPLICATION
The frequency of use should be proportional to the severity of the clinical picture and lesions.
Initially 2-3 times a week for 2 weeks and gradually reduce to once every 1-2 weeks.
INSTRUCTIONS FOR USE
1. Shake before use.
2. Wet the animal completely with warm water.
3. For a correct performance, perform two applications of COATEX® treatment shampoo.
4. The first application is for cleansing, massage small amounts of shampoo into the animal's coat while applying water for dispersion.
4. Rinse.
5. Perform the second application as the first. This application is for treatment.
6. Wait 5-10 minutes to allow the action of the active components.
7. Final rinse.
8. Dry carefully
Ingredients
Coatex Shampoo for Dog Skin Problems VetPlus
Coatex Shampoo is formulated with a range of ingredients with broad properties that make it particularly useful. All our products are manufactured in Lytham, Lancashire, to GMP standards.
- Antibacterial
- Antifungal
- Deodorizing
- Deep cleaning action
- Removes scales and crusts
- Mild for periodic use
- PH neutral for a wide variety of dermatological situations
Features
Coatex Shampoo for Dog Skin Problems VetPlus
Reference

5031812509240

Quantity

250 ml, 500 ml

Brand

VetPlus

Shampoo Application

Wet hair

Hair color

Black, White, Brown

Age

Adult, Senior, Puppy, Junior

Hair length

Pelo Largo, Pelo Corto, Pelo Semilargo

Dermatological Problems

Sensitive skin

Properties

Deodorant, Calming

Dog Size

Small, Medium, Maxi, Giant

Special Cares

Hair and Skin

Product Range

VetPlus Dermatology, , VetPlus Dermatology
Customer Reviews
Coatex Shampoo for Dog Skin Problems VetPlus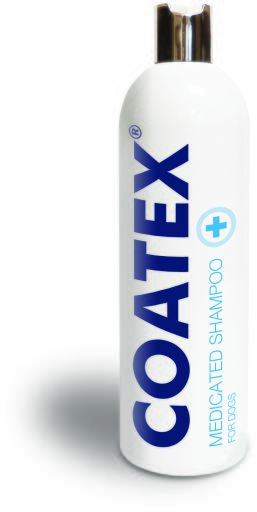 Excelente producto para el lavado de los perros.. A mi me lo a recomendado mi Veterinario..
Buen champ de tratamiento para dermatitis atpica.